One Small Loan Makes a BIG Difference...
| | |
| --- | --- |
| Posted on February 25, 2020 at 9:30 AM | |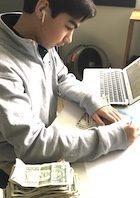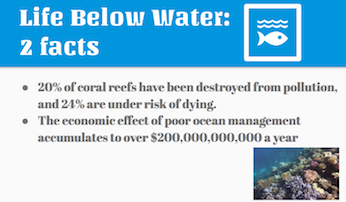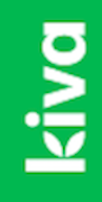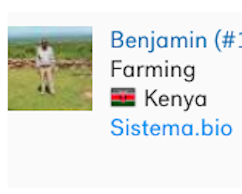 In our CEL Social Entrepreneurship class, we learned about the UN Global Goals, and what they have in common with KIVA. The Global Goals are a set of 17 goals that the UN wants to accomplish by 2030. If some of these goals aren't done by 2030, the damage done from ignoring them might be irreversible. Some global goals that Kiva relates to are No Poverty, Zero Hunger, Climate Change, Clean Water & Sanitation, Gender Equality, and Peace, Justice, and Strong Institution. Another goal is Quality Education, and this is a really important goal because tons and tons of people don't have access to schools or any form of education, and we take this for granted and even sometimes fake being sick so we don't have to go to school.
For my Global Goals presentation, I chose to study Global Goal number 14, Life Below Water. I chose this goal because there are a lot of campaigns to stop global warming, and to plant more trees, but there aren't many that deal with the oceans. The polluted oceans and overfishing are some of the biggest problems in this world. People overfish and it makes an imbalance in the food chain in marine life. Pollution kills fish, and also makes it so people can't fish and get food in certain areas. This goal helps stop those problems and take action on them.
During our CEL class, we video chatted with a KIVA employee named Eli, and he talked about the global goals and some projects KIVA is working on. One of those projects he mentioned was the ID project in Sierra Leone. This project is trying to fix the issue of people not having an ID or access to banks. KIVA is using fingerprints to help banks find people's financial history. This allows people to access banks and money for their families. This project connects to KIVA's slogan; "Dreams are universal, opportunity is not." The ID system allows people to have the opportunity to go to banks and access them.
The person that I loaned to is Benjamin, and he needed money to help make his farm more eco-friendly, by getting a bio digester. This helps the global goal of Climate Action, and he also was gonna use the money from selling crops to help keep his kids healthy, so my loan also supports the U.N. Goal of Good Health and Well-Being.  KIVA is a big part in achieving the global goals. My loan helped Climate Action, and there are many others that impact No Poverty, Clean Water, or Zero Hunger.
To find out more, check these websites:
Categories: None
/